Show Notes for
Episode 04
of
The Gamer Traveler
(As featured on the
Dragon's Landing Podcast
, episode 58):
Belfry Tower and canals, Brugge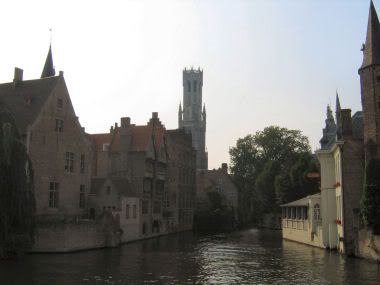 Brugge, Belgium
Brugge - Official Tourist Bureau site (English/Dutch/French/German). Info on the town, tourism, directions, guesthouse listings, events, etc.
Wikipedia: Brugge - The Wikipedia entry for Brugge.
Wikitravel: Brugge - The Wikitravel entry for Brugge.
Rick Steves: Bruges - Info on Brugge from my favorite travel writer. Also check out these articles on the food, charm and beer of Brugge!
The Gamer Traveler Flickr Gallery: Brugge - A gallery at Flickr of photos I took during our trip. You can complement these images with Foto Brugge (Press-quality official photos from the Brugge Tourism Board, only for personal use), Wikimedia Commons: Brugge, Terra Galleria: Brugge, as well as a Google Image Search.
Map of Medieval Brugge - Perfect to use in a fantasy/historical game. Large file but worth it.
Virtual Brugge - VR 360-degrees visuals of Brugge.
Kwalito Bed & Brekfast - Our home during our stay in Brugge.
Rick Steves' Amsterdam, Bruges and Brussels 2006 - My favorite travel guide, with info on Brussels.
Rick Steves' Europe DVD: France and Benelux - Featuring an episode on Brussels.
The Gamer Traveler theme music is Ragasutra from the album "All Strings Considered" by Jamie Janover and Michael Masley, and is provided courtesy of Magnatune.
The Gamer Traveler is brought to you by
Destination: Earth Travel Planners.
Helping you take the trip of a lifetime, today!
--
Posted by Daniel M. Perez to
The Gamer Traveler
at 9/06/2006 04:24:00 PM